Most Popular Shanghai Train Tickets
G Train

D Train

T train

K train
Shanghai Train Seats and Classes
Deluxe Cabin
(2 berth / room)

Soft Sleeper
(4 berth / room)

Hard Sleeper
(6 berth / room)

Hard Seat
(5 seats / row)

Business Class
(3 seats / row)

Deluxe Class
(3 seats / row)

First Class
(4 seats / row)

Second Class
(5 seats / row)
Shanghai Major Train Stations
| Train No. | Dep Station | Arr Station | Dep Time | Arr Time | Business Class Seat | First Class Seat | Second Class Seat | Book |
| --- | --- | --- | --- | --- | --- | --- | --- | --- |
| G2 | Shanghai Hongqiao | Beijing South | 09:00 | 13:48 | $292 | $156 | $93 | BOOK |
| Train No. | Dep Station | Arr Station | Dep Time | Arr Time | Deluxe Cabin | Soft Sleeper | Hard Sleeper | Book |
| --- | --- | --- | --- | --- | --- | --- | --- | --- |
| Z92 | Shanghai | Xian | 18:46 | 09:20+1 | $151 | $82 | $53 | BOOK |
| Train No. | Dep Station | Arr Station | Dep Time | Arr Time | Business Class Seat | First Class Seat | Second Class Seat | Book |
| --- | --- | --- | --- | --- | --- | --- | --- | --- |
| G7006 | Shanghai | Suzhou | 09:00 | 09:25 | N/A | $11 | $7 | BOOK |
| Train No. | Dep Station | Arr Station | Dep Time | Arr Time | Business Class Seat | First Class Seat | Second Class Seat | Book |
| --- | --- | --- | --- | --- | --- | --- | --- | --- |
| G7303 | Shanghai Hongqiao | Hangzhou | 08:27 | 09:40 | $40 | $21 | $14 | BOOK |
| Train No. | Dep Station | Arr Station | Dep Time | Arr Time | Business Class Seat | First Class Seat | Second Class Seat | Book |
| --- | --- | --- | --- | --- | --- | --- | --- | --- |
| G7006 | Shanghai | Nanjing | 09:00 | 10:39 | N/A | $37 | $24 | BOOK |
| Train No. | Dep Station | Arr Station | Dep Time | Arr Time | Business Class Seat | First Class Seat | Second Class Seat | Book |
| --- | --- | --- | --- | --- | --- | --- | --- | --- |
| G7006 | Shanghai | Wuxi | 09:00 | 09:42 | N/A | $17 | $11 | BOOK |
| Train No. | Dep Station | Arr Station | Dep Time | Arr Time | Business Class Seat | First Class Seat | Second Class Seat | Book |
| --- | --- | --- | --- | --- | --- | --- | --- | --- |
| G7505 | Shanghai Hongqiao | Ningbo | 09:05 | 10:59 | $75 | $40 | $25 | BOOK |
| Train No. | Dep Station | Arr Station | Dep Time | Arr Time | Soft Sleeper | Hard Sleeper | Hard Seat | Book |
| --- | --- | --- | --- | --- | --- | --- | --- | --- |
| K8418 | Shanghai | Huangshan | 20:21 | 07:11+1 | $43 | $28 | $25 | BOOK |
| Train No. | Dep Station | Arr Station | Dep Time | Arr Time | Business Class Seat | First Class Seat | Second Class Seat | Book |
| --- | --- | --- | --- | --- | --- | --- | --- | --- |
| G1501 | Shanghai Hongqiao | Guilin | 10:06 | 18:57 | $343 | $176 | $111 | BOOK |
| Train No. | Dep Station | Arr Station | Dep Time | Arr Time | Deluxe Cabin | Soft Sleeper | Second Class Seat | Book |
| --- | --- | --- | --- | --- | --- | --- | --- | --- |
| D935 | Shanghai Hongqiao | Guangzhou South | 20:05 | 07:25+1 | $159 | $94 | $81 | BOOK |
| Train No. | Dep Station | Arr Station | Dep Time | Arr Time | Deluxe Cabin | Soft Sleeper | Second Class Seat | Book |
| --- | --- | --- | --- | --- | --- | --- | --- | --- |
| D935 | Shanghai Hongqiao | Shenzhen North | 20:05 | 06:41+1 | $159 | $94 | $81 | BOOK |
| Train No. | Dep Station | Arr Station | Dep Time | Arr Time | Deluxe Cabin | Soft Sleeper | Hard Sleeper | Book |
| --- | --- | --- | --- | --- | --- | --- | --- | --- |
| Z99 | Shanghai | Kowloon | 18:02 | 13:01+1 | $180 | $150 | $110 | BOOK |
Train Tickets Booking FAQs
Shanghai Train Station Tels
Shanghai Railway Station:
021- 63179090
Shanghai Hongqiao Railway Station:
021- 51245555
Shanghai South Railway Station:
021- 51105110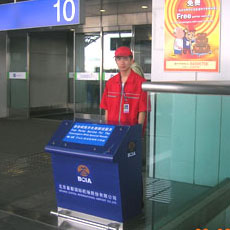 "Hong Mao Zi" is somebody who wear a red hat at the train station, they could help passenger carrying luggage from waiting room to railway platform, if you take their service, you could also check in first and go to your train smoothly. When the train arrived, you could find them on the railway platfo, they could help you carrying your luggage to parking lot or taxi area.
The cost is RMB10-20/per luggage.