2 Days Suzhou & Zhouzhuang Tour
Tour Code: SHA-12
Tour Name: 2 Days Suzhou & Zhouzhuang Tour
Attractions: Humble Administrator's Garden, Tiger Hill, Lingering Garden, Lion Grove Garden, Zhouzhuang Water Town
Duration of the tour: 2 Days
Tour Itinerary:
Day 1, Shanghai to Suzhou (Meal: -/L/- )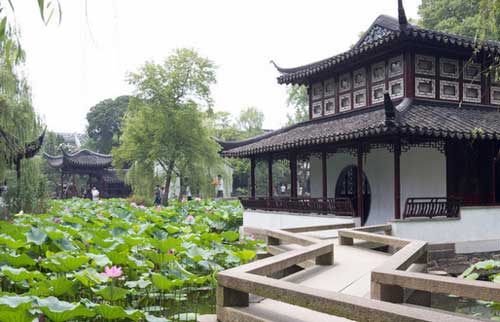 Our guide and driver will pick you up at 08:00 in the hotel lobby, drive to famous garden city - suzhou, visit Humble Administrator's Garden which is the largest among all the Chinese classical gardens in Suzhou, and this lush and distinctive garden is generally considered as the finest one in South China, then go on to Tiger Hill and visit the second Leaning Pagoda of the world. In the afternon, visit other two famous garden, Lion Grove Gardenhas a prominent part for series of man-made mountains with various buildings around the lake. Lingering Garden is well-known for the exquisite beauty of its magnificent halls, and the various sizes, shapes, and colors of the buildings. Humble Administrator's Garden and Lingering Garden are included in four most famous gardens in China, the others are Beijing Summer Palace, Chengde Mountain Resort.
Overnight at Traveler Inn Gusu Hotel


Address: 133 Xiangwang Road, Shiquan Street, Suzhou
Tel: 0512-65200566
Day 2, Suzhou / Zhouzhuang to Shanghai (Meal: B/L/- )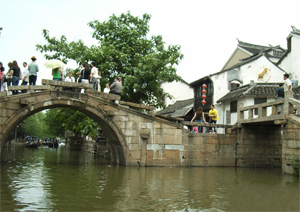 Drive to Zhouzhuang Water Town, as one of the most popular tourist destinations and famous water towns in China, the 900-year-old Zhouzhuang is located within Kunshan City of Jiangsu, very close to Suzhou and Shanghai. Zhouzhuang is surrounded and divided by lakes and rivers, 14 stone bridges cross the rivers, showing distinctive views of the water-town. Twin Bridgeswhich comprise Shide Bridge and Yongan Bridge are the most famous and is considered the symbol of Zhouzhuang. Shen House was the private property of the descendant of Shen Wansan, the first millionaire of Jiangnan (South of Yangtze River) in the early Ming Dynasty. The whole architectural complex is of the Ming's style and occupies an area of more than 2,000 square meters (half an acre). At last, drive back to Shanghai.
Tour Price: (Per person)
| | | | |
| --- | --- | --- | --- |
| 1 person | 2 persons | 3-4 persons | 5-9 persons |
| $700 | $400 | $300 | $220 |
Price including:
1. Private transfers;
2. English Speaking Guide Service;
3. All entrance fees;
4, All meals as specified in the itinerary( "B" stands for western breakfast, "L" for Chinese Lunch in local Chinese restaurant, "D" for Chinese dinner in local Chinese restaurant.);
5, Hotel in Suzhou ( Traveler Inn Gusu Hotel

or similer).
China Package Tours including Shanghai
China Classic Package Tour

Duration: 13 Days
Destinations: Beijing, Xian, Shanghai, Guilin (Yangshuo), Guangzhou, Hong Kong

from $2000

Yangtze River Package Tour

Duration: 17 Days
Destinations: Beijing, Xian, Chongqing, Yichang, Shanghai, Guilin (Yangshuo), Guangzhou, Hong Kong

from $2800

Lhasa Package Tour

Duration: 19 Days
Destinations: Beijing, Lhasa, Xian, Shanghai, Guilin (Yangshuo), Guangzhou, Hong Kong

from $3200